REQUIREMENT FOR OBTAINING YOUR MARRIAGE LICENSE IN THE BAHAMAS

Applications for Bahamas Marriage license can be obtained at The Registrar Generals Office. Here at Wedding Utilities Planning and Decor, we guide you through this process making this procedure very simple and stress free.  First, you must be in possession of a valid passport or, Drivers license and Birth Certificate. All documents in foreign languages must be translated into English and Notarized  before  arrival to The Bahamas.   If divorced, you are required to provide the original divorce decree or True certified copy.  If Widowed you must produce proof by providing spouse's Death Certificate.

PROCEDURES FOR PERSONS TRAVELLING BY AIR AND SEA

If traveling via Airline Services, upon entry into The Bahamas a completed Bahamas Immigration form will be  stamped.  This document provides proof of your entrance into the Bahamas and is necessary in order to obtain a Marriage license.  
If you are  entering the Bahamas via Cruise ship, in addition to the Identification requirements, you must submit a proof of entry letter stating that you have met the Twenty four hour residency period and is a passenger on Cruise ship traveled.  This can be obtained from the ships Customer Service Department and can be requested once you board the ship.
SELECT YOUR PACKAGE AND GET STARTED

Persons under the age of 18 years of age are required to submit an affidavit acknowledging parents consent to marry.  These are all the requirements for a  wedding in The Bahamas.  Please note, that once you would have selected a preferred package, all fees pertaining to your marriage license are included.  You will be required to resubmit your documents which will be  completed and processed by your Wedding Planner/Minister  upon  your arrival to the Bahamas.  Contact us to get started with your plans, a Bahamas tropical wedding is possible for you today.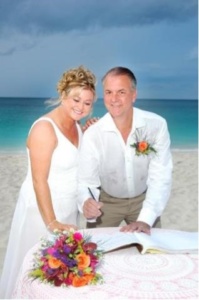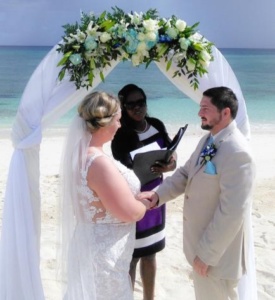 NOTE: Marriage licences are issued at the office of the Registrar General located in Nassau. This office is opened to the public Monday thru Friday between the hours of 9:00 am to 4:00 pm. The office is closed on weekends and Bahamian public holidays)